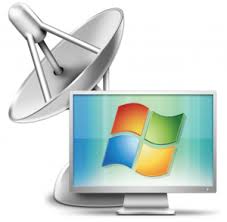 Have you ever been in the situation where you're having an important meeting when you realise you left a super important document on your computer at home? Luckily, there are ways your can access your computer from anywhere.
Here is how you can remote controlling your PC from anywhere.
Built-in remote desktop access
Windows, through its Remote Access option allows users connect to remote PC and gives them a high level of control, but here's the catch: it can only works on Windows Professional or higher.
Here is how you can access your Windows computer from another Windows PC:
Click Start and search for the Allow remote access option. Select the Allow Remote Control Access to This Computer option and a window should pop up. Make sure to check one of the two radio buttons from the bottom of the Window, depending on how you want to access the computer – from another Windows 7 or from other versions of Windows. If you are using Windows 8.1, go to Control Panel and open System Properties. You will be given these options:
– Don't allow remote connections to this computer and
– Allow remote connection to this computer
To enable Remote Desktop Connection, select the first option and you are set to go.
Now, go to your remote computer, click Start, search for Remote Desktop, click on Remote Desktop Connection and type in the name of the computer you want the access. It should be the name given to the computer when Windows was installed, like Mikescomputer. Click Connect and you should be able to connect to your computer.
Remote control your computer with VNC
Here's another great way you can log into your home computer from any device, including your smartphone: VNC or virtual network computing. VNC allows you to see your desktop and remote control your computer just like you're sitting in front of it.
To get started you'll first need to set up a VNC server and a VNC client. Most high version of Windows and Mac OS X already have a VNC server build in and for other versions there are VNC software, like TightVNC or OSXvnc you can install. As for the VNC client, as I said, most Windows and OS X have built-in clients and if they don't, you can just install Chicken of the VNC.
To access your computer from anywhere, next you'll have to forward the VNC server's port on your router. Log into your router's admin page and set up a new port forwarding service for port 5900. Make sure you have a static local IP address otherwise you won't be able to connect to your home computer. Set up a dynamic DNS hostname in order to prevent your local Internet service from changing your IP address.
To connect, start de TightVNC viewer, type in the external IP, enter your VNC password and you'll have access to your home computer.
Remote control your computer with TeamViewer
Maybe the easiest way to remote control your home computer is by using TeamViewer. All you'll have to do is download it, create an account and install some extra software. Here's what you should do:
Start by downloading and installing TeamViewer on both your home computer and your remote computer. Once installed, go to Connection and create an account by clicking on Set Up Unattended Access. Log into your account and leave TeamViewer open when you leave home. Run TeamViewer form your remote computer to log into your home computer. It's that simple.