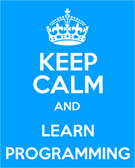 Nowadays, learning to code can be one of your most valuable skills. Sure, learning coding is not easy and it requires a lot of time but, if you are determined you could eventually uncover the mysteries of programming languages.
We gathered below the best online resources where you can learn the basics of coding.
Codeacademy
Probably the best online resource for coding, Code Academy has a great variety of classes to offer: from javascript to HTML/CSS and from PHP to Python. Its user friendly platform makes coding look like child play. Codeacademy feature a split screen on which you can see the code you have the write followed by theoretical explanations and indications.
Code Avengers
Focuses on gamification and entertainment, Code Avengers is a learn-to-code platform designed to teach beginners the basics of coding. Each lesson is designed to be interactive and to make the theoretical part as accessible as possible. Most of the courses are free.
Code School
Another popular online resource for coding is Code School. Guided by the "Learn by doing" motto, Code School offers a great variety of courses structured on different levels of difficulty – from beginners to advance.
A one month subscription costs 29 dollars, but you can access most of the introductory parts for free.
Treehouse
Treehouse provides courses on a range of web development, app development and web design topics. Its rich library, which features 1000+ videos, seeks to help beginners to learn the basics of coding and prospective coders become better.
You can sign up for $25 for a Basic subscription, which will allow you access to most courses, or for the Pro subscription, which cost $49 and allows you access to exclusive workshops and interviews.
Lynda.com
Probably the leading online resource for learning to code, Lynda is a reliable source of training in a wide range of web development topics. Although you'll have to pay a monthly fee to be given full access, the platform offers a free presentation of every course. This way, you can decide whether the course is relevant for you or not.
Udacity
"Our online courses are rigorous and may even make you sweat." states Udacity on their "What we offer" page. The truth is that, Udacity's courses are targeted to those who already have the basics of coding.
Unlike other learning websites, on Udacity every user has a personal trainer with which they can chat about the problems encountered while writing a code. Furthermore, at the end of each course, graduates get a certificate which demonstrates their knowledge and skills on a given topic.